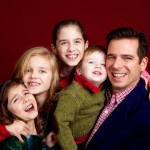 I am a newly separated man heading to divorce as she has been cheating. I have four children whom I love dearly and spend a significant amount of time with. There isn't a strong market for divorced 43 year old men with 4 children. But at the end of the day, my kids trump all else.
The first thought that comes to mind after reading this guy's comment is, how the heck does he know what the market is like for 43 year-old divorced guys with four kids when he is newly separated? He doesn't.
I have been divorced for nine years and I know what the market is for divorced men in their forties who have kids. There is NO SHORTAGE of women who want to date you. Trust me.
Now, I am talking about women who are in their late thirties, women in their forties, and even women in their fifties. If you think we are too old, two things. One, look around. There are some of the most absolutely gorgeous women over 40 out there. Secondly, if you are looking for a woman in her early twenties than you are right. Those women aren't interested in you. But, why on earth would you care?? Those women want children of their own, and trust me, if you went out with them you'd quickly realize you have absolutely nothing to talk about.
So, let's get back to the late 30's, 40 or 50 something babes. Here are 10 qualities we want in a man, single, divorced, kid-less, father of four or someone in between:
    1. Kind-hearted
    2. Smart
     3. Funny
      4. Honest
     5. Loyal
6.  Trustworthy
     7. Fun
      8. Thoughtful
      9. Motivated
     10. A great dad
The point is, there are the things we care about. We love the fact that you are a caring, giving, loving father. It is a very attractive quality! We also love your baggage, meaning we love that you have lived and experienced things. It makes your personality rich and the stories you have to share meaningful and interesting and funny and lively.

I do feel the need to mention that looks matter. I'm not going to sit here and say they don't, because you'd know I was lying. That said, you will find that women over 40 aren't expecting Ryan Reynolds and Ryan Gosling look-a-likes. What we want is a man who makes an effort to keep his body in shape. (doesn't have to be perfect, but rather healthy.) We also like a man with good hygiene, which includes groomed nails and toenails.
At this stage, what is inside a person can make them either more attractive or more unattractive. Passion and desire and lust all stem from what's in someone's heart, what they say, their actions, and how they make you feel about yourself.
In closing, if you are a man over 40 with kids, don't be insecure about it. Focus on being the 10 things I mentioned above and you will see that there is a strong market for you!
Share