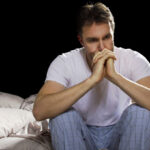 I received a comment from a newly separated man with 2 kids whose wife left him. In the first paragraph of what he wrote, this newly separated guy is in shock. Second paragraph: he clearly has resentment. Third paragraph, he seems devastated, sad, lonely. But then in his next sentence he has a little glimpse of hope. Next sentence after that-"I no longer feel anything for this woman except pity." Two words later, he says he feels angry with her. Perhaps most surprising is his last sentence where he says he would get back together.
I truly feel for him because I was there. I remember. From the moment you realize your divorce is really happening, up until well over a year later, feelings and emotions are ALL OVER THE BOARD. One day you are really angry, the next scared as hell, the next lonely and rationalizing that maybe it could still work out. You tell your friends you don't have feelings for him/her anymore because you don't want to have feelings and because you are so angry. You also know deep down it's really over. Then there are times you feel empowered and hopeful, like "I can get through this."
Being newly separated is like being on a roller coaster. Up and down, up and down. I think that during the time I was on that ride was probably the most difficult time in my life. Everything just seems so uncertain. The future seems scary. There is so much hurt and deep emotions coming to the surface.
Everything this guy wrote is very understandable to me and the advice I will give him is this. First, healing really does come with time. Eventually, those feelings of hope will start to outweigh the bad feelings, the tears will become less and less and you'll find yourself smiling more and more.
There are a few other things you can do to make this crazy time in your life easier:
Find faith. I believe in talking to God as much as you need.
Work out. Physical release of stress is very important right now.
Eat nutritiously because your body needs it. There are lots of emotions that food can make better or worse.
Minimize drinking. It can depress you more and make your mood swings worse.
Try to a lot some time every single day for something you enjoy. Something that makes you happy.
See a therapist. I think this should be required for newly separated people for at least 6 months.
Just love yourself. Forgive yourself. Remember we are only human and humans make mistakes. God loves us all.
Lean on family for support.
Love those kids, smother them with hugs, kisses and your time. They are hurting too.
My last piece of advice is, don't let the divorce make you bitter. I am of the opinion that not being bitter is something you need to nip in the bud early in the divorce process. In other words, catch it now before it becomes habit. Regardless of how ugly the process gets, and regardless of what your ex does and how she acts, be the person you are-not the resentful, bitter, cold, angry person that way too many divorced men and women become. Try to think of this horrible thing that happened to you as a second chance. Because someday – sooner than you think, life is going to be good again. Real good!
Share