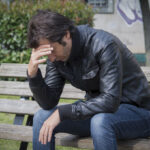 From a reader: Is Staying in an unhappy marriage because you know you won't see your kids as much and there is the possibility of another man in their lives a terrible decision?
I can't offer you advice on what you should do—stay in the marriage or leave, but I can give you the positives and negatives of each. So, here goes.
If you stay in your unhappy marriage versus getting divorced…
+    You will be able to spend as much time with your kids as you wish. There will be no parenting schedules, no fighting with your ex, and no holidays or weekends feeling lonely and isolated.
+ Your kids are in zero danger of ever spending a significant amount of time around a "bad guy," because your wife won't ever have a boyfriend that they will meet.
+ You will have a sense that you are protecting your kids. You are around all the time and feel like you have more control.
-You will be living in a loveless, cold marriage and feel alone (with the exception of your kids) and will be denying yourself the chance for a truly happy and fulfilling romantic relationship.
– You will be setting an example for your kids that being in a loveless marriage is acceptable and that they should settle for the same.
-You and your wife might fight a lot, showing your kids that being in a marriage that has lots of conflict is acceptable and that they should settle for the same.
+Financially you will probably be better off.
+ Your kids won't have to go through the trauma and devastation of a divorce.
-You will probably be living a life of walking on eggshells and being uncomfortable in your own home versus having your own place and living your authentic life.
There is a third option that offers only positives! Is there any way to try to work it out with your wife? Is it possible to be happy with her if some changes and effort was made? Would you consider counseling? (or more counseling?) Are the issues at hand deal breakers or is it possible they can be managed?
Staying together but happily would truly be the best case scenario. And trust me, it is possible if there are no real deal breakers. Just keep an open mind.
You sound like a loving father based on your one-sentence message to me that is showing you are clearly putting your kids first. Whatever you decide to do, it will be the right decision. Your gut will tell you. Best of luck with everything!

Share